Sabre &agrave Champagne Selection
We offer the largest selection of Champagne Saber model in the world.

Champagne is my passion, for the last decade decade, I have open over 4400 champagne bottles of more than 200 different type of Champagne and Sparkling wines including Asti, Cava, etc. and taught over 700 people to Saber champagne.

You can click on Champagne Saber opening recommendation for additional information.

---

Intro Champagne Saber
Intro II Wood Handle
$69

---

Classic Champagne Saber
Classic Wood Handle
Our Best Seller
$119

---

Prestige Champagne Saber
Prestige Green Handle
Temporarily Out of stock
$119
Prestige Yellow Handle
Temporarily Out of stock
$119
Prestige Blue Handle
Our Second Best Seller
$129

---

Laguiole Champagne Saber
Laguiole
$169

---

Limited Numbered Edition Champagne Saber
Limited to 100 World Wide
Limited Edition Champagne Saber
$199 & Up

---

Champagne Saber Accessories
Wood Stand for display
$23
Wood Box
$25
Wood Stand for Laguiole
$30

---

If you are ready to place your order please proceed to purchase

---

Usually orders processed before 4:00 pm Central Time are shipped the same day.

Shipping & Packing


To the US

UPS Ground: $20
UPS 3 Days: $44
UPS 2 Days: $59
UPS Overnight: $101 to $141 (depending of location)

To Canada (without stand/box)

UPS Ground: $33
UPS 2 Days: $98

To Canada (with stand/box)

UPS Ground: $55
UPS 2 Days: $115


Subject to rural and other UPS delivery surcharge

---

We ship World Wide. We have ship our champagne saber to many countries including: England, Belgium, France, Sweden, Switzerland, Australia, Singapor an Japan.

Shipping Saber (without Stand/box) to Australia using USPS (US Post Office) cost from $54 to $77
Shipping Saber (without Stand/box) to Europe using USPS (US Post Office) cost from $45 to $65
Shipping Saber (without Stand/box) to Asia using USPS (US Post Office) cost from $50 to $70

Shipping Saber (with Stand/box) to Australia using USPS (US Post Office) cost from $75 to $102
Shipping Saber (with Stand/box) to Europe using USPS (US Post Office) cost from $65 to $85
Shipping Saber (with Stand/box) to Asia using USPS (US Post Office) cost from $70 to $90

---

If you are ready to place your order please proceed to purchase

---
Click picture to enlarge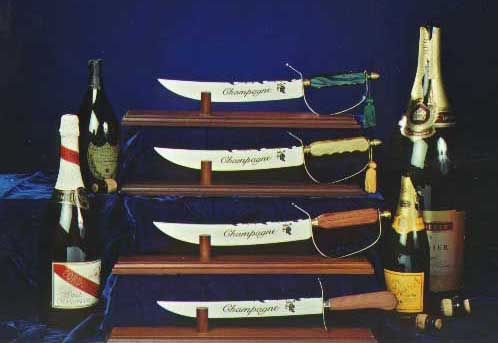 Please click on this link if you are interested in becoming a reseller.
The "Sabre &agrave Champagne" are made in the City of Thiers,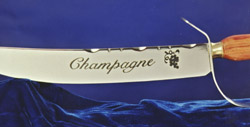 French capital of the cutlery. The blade is made of 440 grade stainless steel, with a Rockwell hardness of 56/54 to insure the highest quality. Click picture to enlarge.
Never sharpen the blade
(Unnecessary to beheade, since one uses the "back" of the blade)

Never put your Sabre &agrave Champagne in the dishwasher.

Wipe them with a soft cloth.
The handles are available in precious palissandre bubinga wood; aluminum; as well as amber, green or blue acrylic.
SabreaChampagne.Com
The Only way, to Celebrate Champagne
About Us | Services & Products | Where to Purchase | Contact Us