Limited Champagne Saber
Total lenght:
17" 1/2
44.5 cm
Blade lenght:
11" 1/4
29 cm
Blade width:
Approx. 1" 1/2
4 cm
This "Sabre &agrave Champagne" is made in the City of Thiers, French capital of the cutlery.
The blade is made of 440 grade stainless steel, with a Rockwell hardness of 56/54 to insure the highest quality.
(It comes from the same foundry and use the exact same stainless steel than the very prestigious Laguiole's knives.)
The handles is in aluminum
Never sharpen the blade
(Unnecessary to open Champagne, since one uses the back of the blade)
Never put your Sabre &agrave Champagne in the dishwasher.
Wipe them with a soft cloth.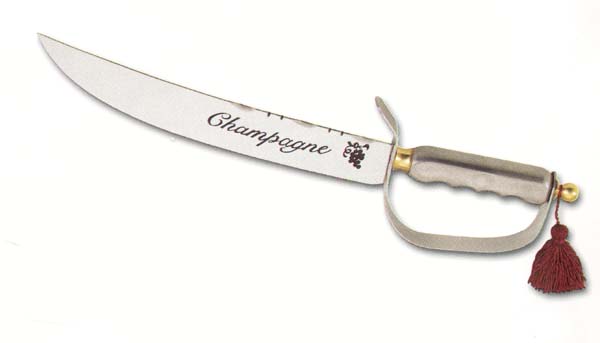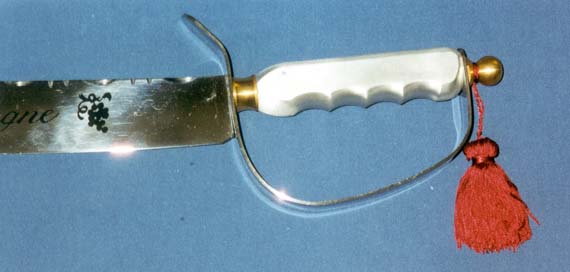 ---
Only 1 left
---
Our Limited Edition (200 world wide) is for discriminating buyers for which money is no object. Renowned Business men, show business celebrities, Governors as well as other political figures have purchased our champagne sabers.
---
Limited Aluminum
Click on pictures
to enlarge
Numero 25 - $ 340
Last One of 200 (world wide)

---

Prestige "Limited" Recently Sold

---

Numero 29 - SOLD
Numero 176 - SOLD
Numero 132 - SOLD
Numero 91 - SOLD
Numero 84 - SOLD
Numero 74 - SOLD
Numero 45 - SOLD
Numero 37 - SOLD
Numero 26 - SOLD
Numero 17 - SOLD
Numero 16 - SOLD
Numero 12 - SOLD
Numero 8 - SOLD
Availability and Prices subject to change without notice
SabreaChampagne.Com
The Only way, to Celebrate Champagne
About Us | Services & Products | Where to Purchase | Contact Us